Postmates delivers LA one of the most exciting order taking and delivery services for every restaurant, store and merchant direct to customers.  The best thing is stores get paid full price right away.  Restaurants needing help with details for getting menus featured can contact us here.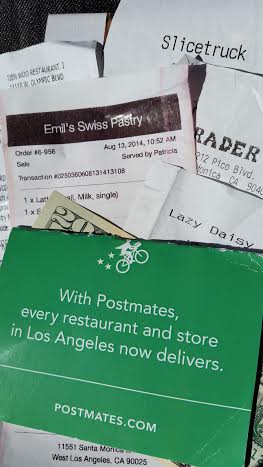 HOW IT WORKS
Any Restaurant or Store can be listed like Starbucks (yes you can order a latte and have it delivered!), Apple, Trader Joes, Urthh Cafe, Whole Foods, you name it…
Fast Delivery – delivered to customer's home or office in under an hour
Real Time Tracking and ETA's – customers never miss a delivery again
What is Postmates?    Customers find restaurants and stores listed and place orders with Postmates 24 / 7.  Postmates instructs their driver to call in the order to the store, they pick it up, pay for it and deliver to customers under an hour.  The customer pays for placing the order by credit card (to Postmates), for delivery (usually $5 to $10 depending on distance) and a small service fee (9% of the food or product total).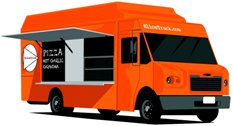 An early success story   Slicetruck Pizza, 2012 Sawtelle Blvd, (tip – parking in rear lot) in 90025 (Yelp 4 stars, 226 reviews) proprietor Chris reported about 20 pizza orders for delivery on its first Saturday.
Awesomeness  soon customers can find your store's products or restaurant's menu on Postmates.  Postmates can deliver your food up to 10 miles, expanding your service area. In time, perhaps Postmates solves the home / office delivery problem, worldwide…
Hit us back if you have questions or would like help being listed – it's totally cool…
Office (310) 943 – 6509
Copyright OLO|Mix.com 2015 All rights reserved